ADULT LEAGUE-ALL LEVELS WELCOME
---
Come as a Single Participant or a Set Team! 
Whether you are a regular on the courts, a "back in the day" player or a beginner, as long as you have a desire to play you are welcome!
"SESSION 25 DATES"
GAME DAYS, January 17TH, 24TH, 31st, Feb 7TH, 21st, 28TH.
NO GAME DAY FEB 14th OFF
Registration: $30 per person for 6 weeks Friendlies & Fanatics League
Walk-in registration – 8 Teams Per Level Max Occupancy!
Friday Nights: 8-10pm
Newcomers @ 7:30pm to get registered.
You can join in the session anytime!
New Format Fanatics will play 4v4 with 1 girl required on the court at all times, ask Jason for more Details. 
Email: jason@forza1volleyball.com
---
SCHEDULE FOR JANUARY 25th, IS BELOW PLEASE CLICK ON THE LINK BELOW TO SEE THE POOLS AND TIME OF YOUR FIRST MATCH!!!
PLEASE ARRIVE AT 7:50 IF YOU HAVE THE 8:10 MATCH, PLEASE STAY ON TIME AS BEST AS POSSIBLE!!!
---
Adult League Finals Pools
"Forza Friendlies": For the beginning to intermediate player that is new or a bit rusty in their skills and wants to get a little exercise, and at the same time wants to enjoy the social aspects! This is a great way to get to know other Forza parents. Minimum of 8 players and play on a co-ed height net with at least 2 women per team.
This is a fun relaxed league where we all play and enjoy our time on the court, if it is your first time playing or it's been a decade thats okay everyone is welcoming and helpful.
"Forza Fanatics": For the player that has kept up their skills and is ready to compete at an intermediate to advanced level. Minimum of 4 players and play at a men's height net, with at least 1 women per team.
New format this season will be 4V4 League, rules at a quick glance, 3 players front row and 1 player back row, no open hand tips, no setter dumps unless square with where ball is going additional rules explained at first night!!!
---
***VOLLEYBALL IS FUN FOR ALL AGES***
 Each session is only a 6 week commitment!
---
FRIENDLIES SEASON 23 CHAMPS
FANATICS SEASON 23 CHAMPS
MUSTANGS
Option #1 LEAGUE DETAILS
"Forza Friendlies"
When: Friday nights from 8-10pm.
There will be  6 weeks of games and 1 final Championship which is week 6.
Level: For the beginning player with little to no playing experience. 2 Women minimum per team.
---
"Forza Fanatics 4V4"
When: Friday nights from 8-10pm.
There will be  6 weeks of games and 1 final Championship which is week 6.
Level: For a more advance player with playing experience. One women minimum per team!
---
---
GET INVOLVED!
FAQ's
1. Is there a limit to how many players are on the team?
No, 6 players are on the court and you can rotate in, always keeping 2 women on the court. There just has to be a minimum of 8 players.
2. I want to play but do not have a team? Sign up as a single participant. Forza will place you on a team the first night.
3. My significant other doesn't want to play but wants to be involved..can she/he come help out and be apart of the fun?
Yes! Everyone can be a part of the fun whether on or off the court. We will need people to flip score and help line..or just cheer the team on!
4. Do I have to already be a part of Forza1 to sign up?
No,  anyone can join the league.
5. Will Forza1 be having Adult Leagues year round?
YES! We will take a 1-2 week break in between and then start up with the next sessions right away! Future dates will be posted ASAP!
6. Do we have to buy a uniform?
No. Every team can chose whatever they want to wear. Players have the option to make their own matching t-shirts, or special socks, etc. but it is not required.
7. Are certain shoes required? YES! Court shoes only. No black-sole or marking shoes will be allowed.
8. How many women need to be on the court at a time?
Two women needs to be out on the court at a time.
9. Will you have ice on hand?
Yes we have Ice!
QUESTIONS ABOUT THE ADULT LEAGUES?
Contact our Director of Operations:
Christina Pulver
christina@forza1volleyball.com
951-813-9315
Location:
Forza One Performance Center
27711 Diaz Road, Temecula, CA.
CONGRATS TO OUR PREVIOUS SEASON WINNERS!
---
---
Congratulations Badu 671!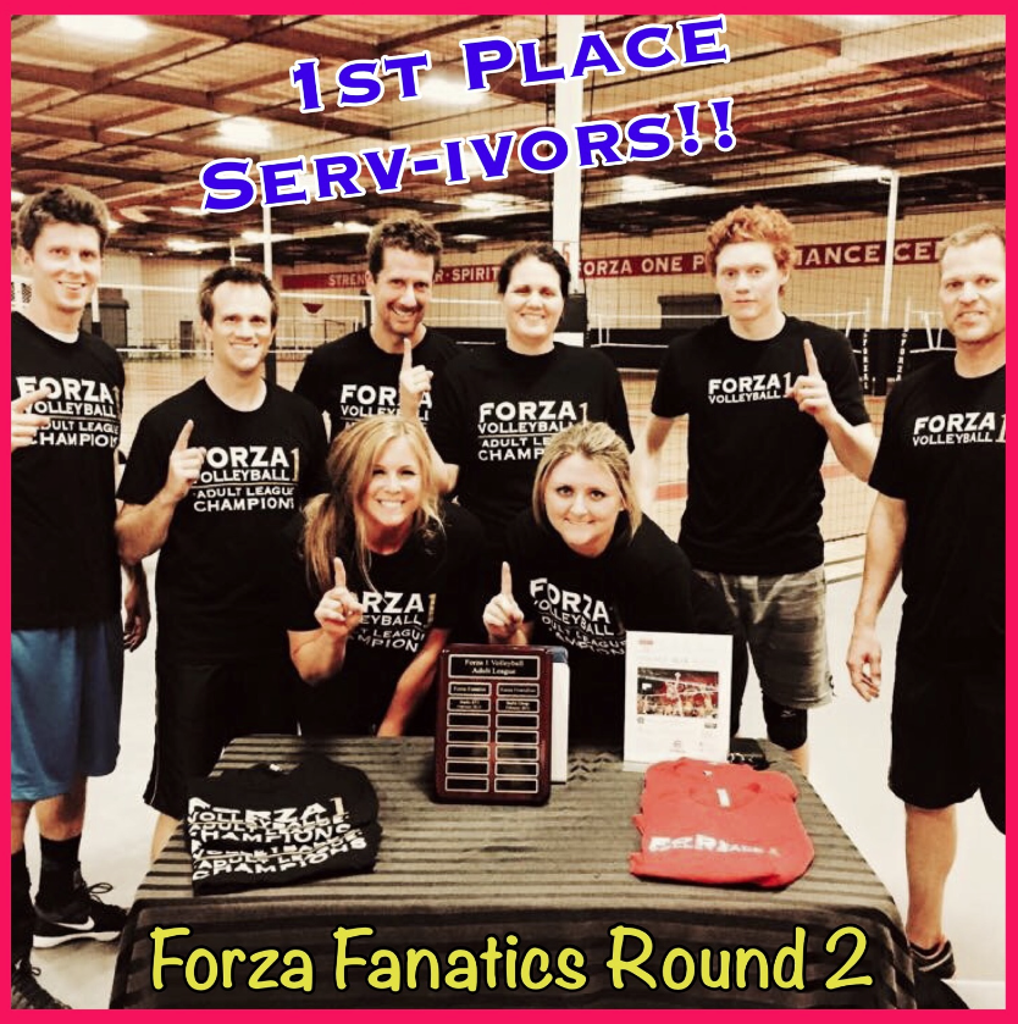 Congrats to our Fanatic Champions!
Congrats Team Impact!
Congrats to our Friendlies Champions