---
Come as a Single Participant or a Set Team! 
Whether you are a regular on the courts, a "back in the day" player or a beginner, as long as you have a desire to play you are welcome!
"SESSION 26 DATES"
UPDATE 5/9/22

 
We are looking at a couple of options in order to start the league back up in some fashion, please be on the lookout for more information posted here and thru an email towards the end of August!!  If you wish to be a part of the email list for when the new start dates are posted please email jason@forza1volleyball.com with the subject Adult league email list.
New dates Coming Soon 
Registration: $per person for 6 weeks Friendlies & Fanatics League
Walk-in registration - 15 Teams Max Occupancy!
Friday Nights: 8-10pm
Newcomers @ 7:30pm to get registered.
You can join in the session anytime!
New Format Fanatics will play 4v4 with 1 girl required on the court at all times, ask Jason for more Details. 
Email: jason@forza1volleyball.com
"Forza Friendlies": For the beginning to intermediate player that is new or a bit rusty in their skills and wants to get a little exercise, and at the same time wants to enjoy the social aspects! This is a great way to get to know other Forza parents. Minimum of 8 players and play on a co-ed height net with at least 2 women per team.
This is a fun relaxed league where we all play and enjoy our time on the court, if it is your first time playing or it's been a decade thats okay everyone is welcoming and helpful.
"Forza Fanatics": For the player that has kept up their skills and is ready to compete at an intermediate to advanced level. Minimum of 4 players and play at a men's height net, with at least 1 women per team.
New format this season will be 4V4 League, rules at a quick glance, 3 players front row and 1 player back row, no open hand tips, no setter dumps unless square with where ball is going additional rules explained at first night!!!
---
***VOLLEYBALL IS FUN FOR ALL AGES***
 Each session is only a 6 week commitment!
---
FRIENDLIES SEASON 23 CHAMPS
FANATICS SEASON 23 CHAMPS
MUSTANGS
Option #1 LEAGUE DETAILS
"Forza Friendlies"
When: Friday nights from 8-10pm.
There will be  6 weeks of games and 1 final Championship which is week 6.
Level: For the beginning player with little to no playing experience. 2 Women minimum per team.
---
"Forza Fanatics"
When: Friday nights from 8-10pm.
There will be  6 weeks of games and 1 final Championship which is week 6.
Level: For a more advance player with playing experience. One women minimum per team!
---
---
GET INVOLVED!
FAQ's
1. Is there a limit to how many players are on the team?
No, 6 players are on the court and you can rotate in, always keeping 2 women on the court. There just has to be a minimum of 8 players.
2. I want to play but do not have a team? Sign up as a single participant. Forza will place you on a team the first night.
3. My significant other doesn't want to play but wants to be involved..can she/he come help out and be apart of the fun?
Yes! Everyone can be a part of the fun whether on or off the court. We will need people to flip score and help line..or just cheer the team on!
4. Do I have to already be a part of Forza1 to sign up?
No,  anyone can join the league.
5. Will Forza1 be having Adult Leagues year round?
YES! We will take a 1-2 week break in between and then start up with the next sessions right away! Future dates will be posted ASAP!
6. Do we have to buy a uniform?
No. Every team can chose whatever they want to wear. Players have the option to make their own matching t-shirts, or special socks, etc. but it is not required.
7. Are certain shoes required? YES! Court shoes only. No black-sole or marking shoes will be allowed.
8. How many women need to be on the court at a time?
Two women needs to be out on the court at a time.
9. Will you have ice on hand?
Yes we have Ice!
QUESTIONS ABOUT THE ADULT LEAGUES?
Contact our Adult League Director:
Jason Adams
jason@forza1volleyball.com
951-570-0583
Location:
Forza One Performance Center
36580 Penfield Ln Unit 101, Winchester, CA 92596
CONGRATS TO OUR PREVIOUS SEASON WINNERS!
---
---
Congratulations Badu 671!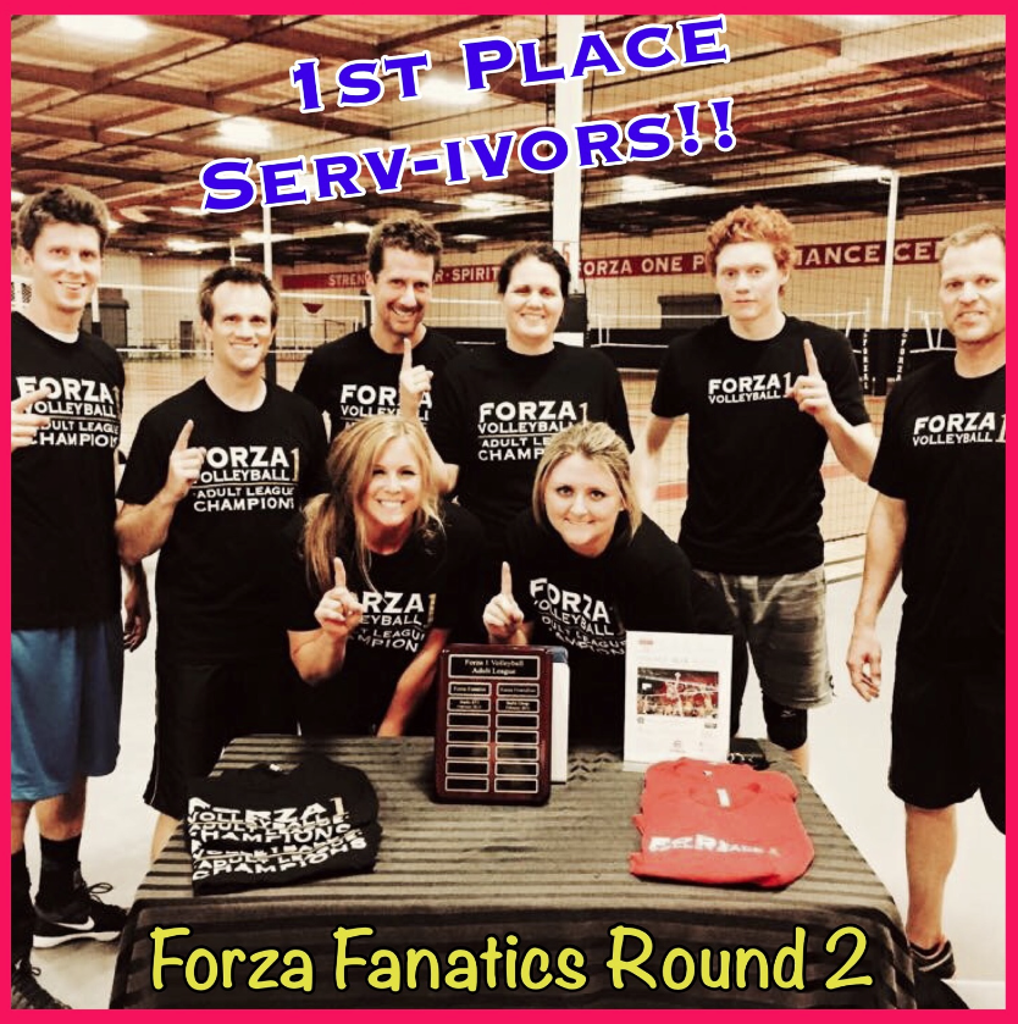 Congrats to our Fanatic Champions!
Congrats Team Impact!
Congrats to our Friendlies Champions