Gretchen Johnson's Biography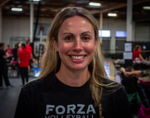 Gretchen was introduced to Forza in 2016 when her oldest daughter first played volleyball on the Elementary School League.  Seeing her daughter's passion for the sport, it inspired her to get involved with coaching.  The 2017-2018 club season was her first year as an assistant and head coach.  In 2018/2019 she head coached the 13 Elite Red team and assisted on the 11UA team. She is also a coach for our Forza For All School Leagues. In 2019/2020 she head coached 13 Elite and coached the 12UA team.
Playing Experience
Gretchen started playing volleyball her Freshman year at Cope Jr. High in Redlands, CA.  Not seeing much court time her first year, she was motivated to improve as she enjoyed volleyball.  After receiving Most Improved Player 3 years in a row and making all Citrus Belt League her Senior year, she continued her volleyball career in Hempstead, NY where she received a full scholarship at Hofstra University.   As a middle blocker she had many achievements such as being ranked in the NCAA Division 1 for service aces, making the America East Conference 1st Team, and receiving All Tournament at University of Kentucky and American University.  During her time on Long Island, Gretchen would help coach the local volleyball summer camps and get children excited about volleyball.   She graduated Hofstra in 2000 with Bachelor's Degree in Business Administration.